A pencil, lots of paper or an automatic speech recognition program - or anything in between.
Good news: there are no initial costs. Writing is the art of the poor, the poor artists. That's why so many classic authors are found in the small country of Ireland; it has been the European poorhouse of the past. They didn't have money for oil paint. Do you know a single famous Irish painter? Neither do I, and I have been to Ireland many times and have enjoyed everything Irish culture has to offer.
To start writing no investment is needed, unlike nearly every other artistic activity.
Since you don't really have to buy anything, you don't have a financial excuse. So why don't you just sit down and write your novel? Everyone who has a computer at home can type on it, or swipe on your phone, or write your first draft by hand. Some authors feel freer that way and do a handwritten first draft. Sometimes the choice of writing material has something to do with the content or the circumstances.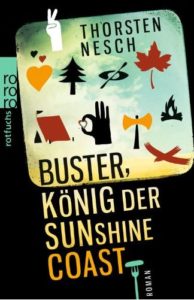 I wrote the first draft of my novel Buster – King of the Sunshine Coast completely by hand because at that time I was travelling in Canada and living in a tent.
So remember: nothing should keep you away from writing. I have written in tents, on beaches, in buses, in cars and in cafés, and even while standing when I was working as a art gallery guard. I have written everywhere. Never mind what the pieces of paper look like afterwards, be they lacerated, full of water, food and coffee spots, with sand trickling off them, or blades of grass—who cares! Literature is life, is alive. Yes, it is. And the essential element is that the first draft is done.
All in all I wrote 240 pages in four weeks while I was travelling and camping. As long I have an idea, a pen and some paper I am unstoppable.
Because I lived in a tent and not in Fort Knox, and could have been robbed day or night—since every Canadian out there could find out that I had just penned a potential world bestseller—I went to a copy shop every fifty pages, xeroxed the chapters, and immediately sent them home via snail mail post. So I had a backup at home. That's important while working on a computer: press Save from time to time, and at the end of a writing day send the file to your own email account—as a backup.I have a folder called "Backup." You never know.
I have colleagues who have deleted their 200-page document after reading their work. Really. And the next day they regret it. True story! I then still have the backup in my email account. And if your house goes up in flames, the Internet disappears overnight and you lose your lines, then you—and humankind—probably have a bigger problem than your lost story. Backup is important. For me the hardest work is work that has to be done twice.
Another time, I wrote an entire novel in the computer room of the University of Calgary, surrounded by hundreds of students, in German on an English keyboard without ß—I had to replace it with $—and without umlauts (oe instead of o-Umlaut), and so forth. That got a bit on my nerves, twisted my brain. But it didn't keep me from writing. Just saying.
Really … everywhere? Well, you probably shouldn't jump off a diving board during a diving event holding a booklet and a pencil in front of your nose. Your coach might become suspicious and on impact you could experience some serious facial injuries. That would be an unnecessary slump for your career and bad for your image. Additionally, it wouldn't look too good on your CV. You just can't start to think about the biographical cornerstones early enough as a budding author.
I truly appreciate my present situation. Right now I am lying on a fifty-year-old Roman-style sofa, with my legs crossed and arms folded behind my head, speaking into the microphone of my headset. I am dictating Heroes to my speech recognition program. The words just appear on my laptop screen. It is very relaxing and I can concentrate excellently.
I dictate most of my first drafts.
This way I am making a living while lying on my back.
For me being a full time author became partly horizontal trade.