How to get rid of monsters underneath the bed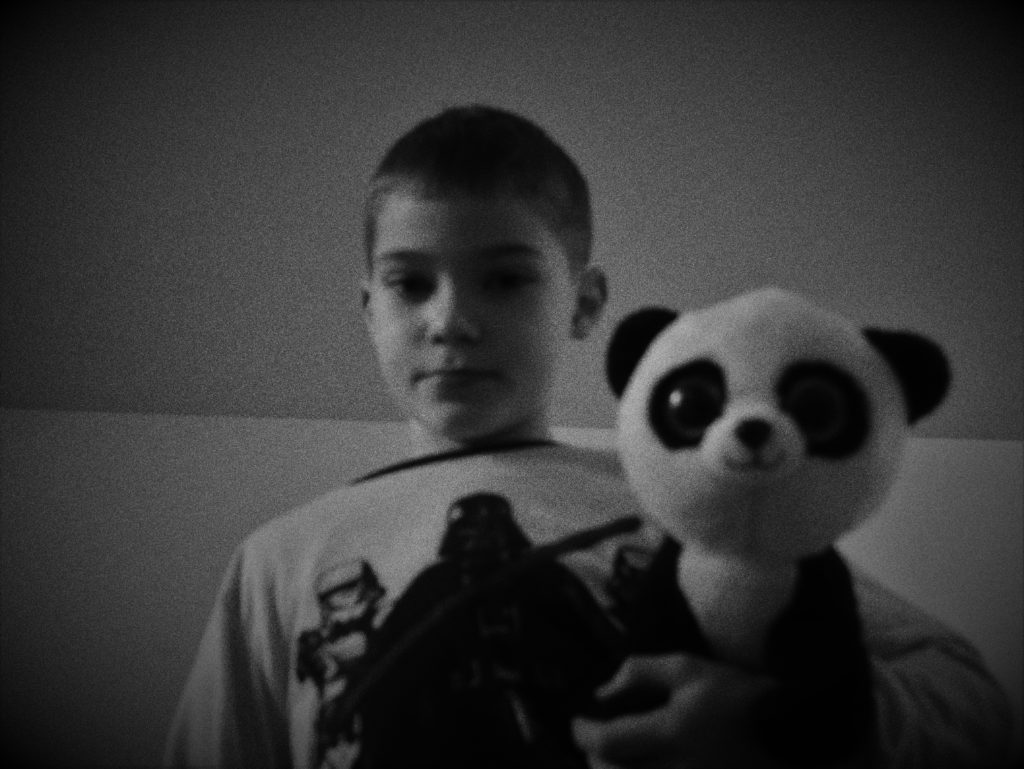 Between the ages of six and twelve kids tend to wake up in the middle of the night and migrating towards the parents bedroom. Now some of you may not care – good for you – but if you have a light sleep like me, this could mean a very short night.
We may try bringing them back to their beds but by the time they fall asleep again there is just one hour left before the alarm clock goes off for us. However we all been there, giggling half crazy towards the bedroom ceiling, even some parents – after a couple of those short nights – found themselves praying for higher powers.
The root of this evil are often monsters. These type of monsters can hide anywhere from underneath the bed to between the clothing rack or the bookshelf, and they can take all forms and shapes, deriving from the kids' fantasy, Japanese animation villains or stem from the good old fairy tales grandma's like to read when they have them for a sleepover and spoil the little critters.
It took me until our youngest turned eight – when he started playing this zombie apocalypse – to come up with a solution to this problem. We begged our older ones when they turned to night walking gremlins, we promised them everything, even the higher powers failed on us, and we finally gave up and gave in to become the coffeeine addicted adults they will largely remember us for.
Only with our youngest one after the third short night during a ride home from school in a sleep deprived late afternoon mental state that can only be described as stable I had a moment of clarity. The mist left by undreamed dreams lifted briefly but long enough.
I am somewhat against promising our kids something if they do one thing beforehand – like sleeping through the night and leave us alone. We avoid bribing them into certain actions, we want to raise balanced characters, not CEOs or politicians.
So what measure can there be left? And the answer is as North American as it can be: a donut. Yes, that's all there was to it. Because monsters don't like donut breath! As a matter of fact they hate it, despise it, probably go up in fumes like vampires in sunlight – or me if I have one more short night.
So I said to our son after establishing this little-known fact about how to fight the monster underneath the bed business "Before we go home I will buy you a donut, but you have to eat it right away and entirely. Then you are good for … (and now I had my second genius idea that day) … a week!" His eyes widened, probably just as happy about getting a donut as getting rid of the monster for a while.
"And the trick is …" I continued after we left the drive-in two blocks behind us listening to the soundtrack of the sugar hyena on the backseat "The trick is to eat the donut without smacking" And our used car fell silent; only the muffled crackling of the coloured sprinkles were to be heard. Boom, a genuis-ideas-home-run-day!
The following night he slept through and we as well. The world of dreams and regular REM cycles had us back. All three of us. Next day the sun was shining, birds were chirping, and with my good mood back I annoyed everybody as usual.
Okay, let's be real, I don't want to lie to you, it is not the donut that keeps the monster away and you asleep. It is the story around it, the power of storytelling, and the fun of it, because no matter if our son believed me or not, it worked. Without pressure, bribing or red-eyed begging at 4AM.
"A doughnut a week keeps the monsters away."
Book Review:
Hands down, this is the best anthology I ever read. And I read some. Why? Because not only the genre ties it together, It is perfect put together by the editors, their choice of stories, authors. Twenty-two in total, so that isn't easy.
Each of them is worth a closer look – which I did. I can't single anyone out. Only thing I can say: after limiting myself to finish one story a day I was looking forward already for the next short story the next day. I never read two a day, too much I like the good story to linger on, to digest it for the rest of the day, you know that feeling?
Surprising – and contrary to my path anthology experiences – not one let me down. Sure,  you have personal favorites due to genre interpretation, language, style and protagonist but there wasn't a single story failing on me, not even close.
I enjoyed Canadian Noir tremendously, and I do want to point out that I liked it so much not because it's Canadian, no, but this Noir anthology belongs in the hands of everyone with a remote love for the genre – which is interpreted in this book from classical to apocalyptic/horror. You never know. That's good. Very good.
A novel, an album, a feast!
Review: "Festival Man" by Geoff Berner – a novel & a tribute album
The novel "Festival Man"
Campbell is the name of the hero in "Festival Man", a fine name for real heroes of the past, people writing about heroes, soup and also the last name of a Canadian politician – a name carefully chosen by the author Geoff Berner taking a look at his main character.
During the novel Campbell gets away with … well … not murder … but pretty much everything else. He is a nerveladen guy you don't necessary want to be around all day but you wouldn't mind being him at least for a little while.
A story with many twists (as twisted as Campbell) told in a way that let's you laugh out loud or facepalm.
Well known for his music this is Geoff Berner's debut novel and it has everything a debut has to bring with: it is fresh, daring and full of unheard anecdotes mixing The Dude with Duddy Kravitz in a true Albertain setting.
It is not surprising that it has a lot do with the music festival business since Geoff Berner has been touring the world for about two decades. And now he is stepping up to the literary stage. As it turns out, his storytelling talent goes way beyond the length of a song and his infamous introductions on stage.
On the path of novel writing musicians he leads the pack of Nick Cave and alikes so far that it doesn't do him justice to be called a novel writing musician. He is just an exceptional funny and witty storyteller all around – written or sung. His lyrics profen that many times and everybody who had seen him live will second that.
BONUS: this novel even comes with a download code for a music album, actually a tribute album with cover songs by befriended international musicians – financed solely with crowdfunding!
And here it is:
The album "Festival Man"
It is rare listening to a musician from his beginnings to the point when he's getting his very own tribute album.
I have been listening to Geoff Berner from a hootenanny in Victoria, B.C. to the "Festival Man" now.
To my delight the musicians sum up the excellence of his songs churned with their talent.
I wouldn't go through the trouble of noting each single song on this album if it wouldn't be the best album I listened to this year.
Take my word.
1. Song: Right away the opener floored me: The Kaizer's Orchestra interpreting Whisky Rabbie evoking a picture of Tom Waits chasing the B-52s over a German Wave festival stage.
2. Nothing short of beautiful is The Lions Bridge casting a bright light on to the simple beauty of Geoff Berner's songs.
3. That's what keeps the rent down by Corb Lund & the Hurtin' Albertains moves it musically nicely from the city to the countryside.
4. Carolyn Mark & her New Best Friends' melting seemingly effortlessly Prairie Wind into its natural surrounding showing strong signs of the a 10 chart song of its genre.
5. More on the experimental side is the Victory Party Variation by Orchid Ensemble taking me back to tiny moments of brilliance experienced at experimental music festivals worthwhile listening to each tone.
6. The Authentic Klezmer Wedding Band is for Hire by RotFront is swaying between the Dead Kennedys, Klezmer and Calexico and highly danceable.
7. And who would follow a song like that with a big band tune? Befriended artists of Geoff Berner like Dave Lang with Phoney Drawl. Fantastic.
8. Calgaryan own Kris Demeanor & the Cutest Kitten Ever singing The Rich will move to the High Ground. Being from the city which experienced a flooding his voice carries even more significance in the light of recent events.
9. Painting (I never wrote that before) with their voice does Rae Spoon how they deliver the Unlistenable Song to ambient music.
10. Light enough to Travel is one of my personal favorite songs, so I am even more critical, but with this perfect arrangement played by the Real Ones … kudos, kudos.
11. Imagine a snare drum played under water and you get the unique voice and the concise style Wax Mannequin is singing Volcano God.
12. In Klezmer tradition follows the Wealthy Poet by Maria in the Shower. It is impossible not to move while listening to it.
13. Playfully is what The Burnettes did to Public Relations. They moved the horns into the foregroud carrying the tune.
14. A drunken angels choir I thought hearing when Iron Grey started. This is truly the only missing tune on the soundtrack of the movie "The Street". Mr Johnon's Grade 5/6 Kittens from Ecole Macphail Memorial in Flesherton belong there, too.
15. And Kim Barlow wraps up this musical panopticum with Cherry Blossoms.
All cover songs are on eye level with their originals – and no matter how close or how removed they are from Geoff Berner's original recordings these tunes carry his soul.
Refreshing are the different styles tied together by Geoff Berners songwriting making it a stunning emotional and powerful album showing what different approaches can do to great music.
Enjoying Geoff Berner's "Festival Man" as novel and his songs played by all the artists make a feast of words, humor, politics and crude ideas.
Not enough?
Here are some links:
to Geoff Berner's Hompage – check out when he is live in your town – and GO THERE!
to the publishing house of the novel "Festival Man": Dundurn Press, Toronto, Canada
never seen him live? – watch Geoff Berner with Song written in a Romanian Hospital
—